Software security with smartcard technology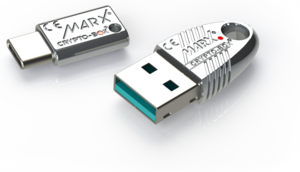 The integrated secure microcontroller with smartcard technology achieves the highest security level according to Common Criteria EAL4+ Certification.

The 2048-Bit-RSA algorithm is completely hardware integrated - for secure authentication, updates and software protection.

One of the fastest USB dongles in the market: the access to the internal protected memory is 20 - 40 times faster than with the CRYPTO-BOX Versa/XS!

Supports the Smarx Application Framework, the all-in-one solution which protects software, data and provides flexible end user management, including remote updates.

Compatible with CRYPTO-BOX XS and Versa. Existing applications which were protected with an older version of the CBIOS library may require a
re-compilation with the latest CBIOS library (included in the Smarx OS Protection Kit).

Automatic protection of Windows .EXE or .DLL files or implementation with API into the source code. Libraries and samples for all common compilers such as .NET, C++, Delphi, Java, Qt and more under Windows, macOS and Linux (X86 und ARM) are included.

Individual network license counter configuration possible for every CRYPTO-BOX SC - via License Control System (LCS).

Standard case color: Titan (matt)

Short metal case with many options for customization: color, stickers, logos, engraving, and more.

Also available with USB-C plug and as ExpressCard.