Developer kit for protection and licensing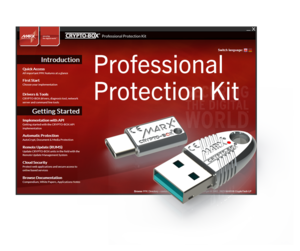 AutoCrypt software for automatic protection of Windows EXE and DLL files in minutes - without source code or programming skills.

Libraries and sample code for individual integration via API for developers under Windows, Linux and macOS.

Document Protection for automatic protection of digital documents.

Tools to configure the CRYPTO-BOX according to the individual protection strategy.

Redistributable packages for easy implementation of the required
CRYPTO-BOX components into customer specific setup routines.

Remote Update System (RUMS) for updating licenses directly at the end user site (optional).

Free for new customers: Included in the first order of an CRYPTO-BOX Evaluation Kit or Starter Kit.

If you need an upgrade for your Protection Kit version, you can either buy it separately or get it included with a Support Option. Check out our Download Areafor details on latest updates.