The short answer to software security needs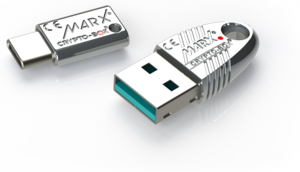 First dongle on the market with AES/Rijndael algorithm integrated in the chip - the encryption key never leaves the hardware.

The extremely short and robust metal case shields electronic circuitry perfectly.

Supports the SmarxOS Application Framework, the all-in-one security solution which protects software, data and provides flexible end user management, including remote updates.

Remote programmable with the Remote Update Management System (RUMS).

Supports operating systems Windows, macOS, Linux. No drivers needed for Linux and macOS.

Automatic protection for Windows .EXE or .DLL files, or implementation into the source code with API. Libraries and samples for all common compilers such as .NET, C++, Delphi, Java, and Qt are included.

4kB memory for licensing information.

Standard case color: shiny silver. Also available with USB-C plug and in different colors and customized product labeling.