DESIGN YOUR CRYPTO-BOX®
Whether for quick identification or to increase the recognition value - the CRYPTO-BOX can be customized to your own requirements! Through individual engraving or customer specific housing with your own logo and/or color (including metallic effect), it can be perfectly integrated into an existing product line. Special model and design variations are possible - just ask us!
LASER ENGRAVING
Laser engraving is an excellent way to mark and identify the CRYPTO-BOX. Visible laser engraving of a data matrix code (2D barcode) or serial number on the USB connector improves logistics in the field. We offer a wide range of options: laser engraved customer logos, working with adhesive labels, or attach the CRYPTO-BOX to an elegant metal pendant of polymer tag.
Professional laser engraving on the USB Connector.
Optional metal pendant with custom engraving or identifier.
Inexpensive customization with no minimum quantity necessary.
Perfect for a serial number, customer logo, software label and much more.
Individual engraving spots available.
To add laser engraving to your ordered CRYPTO-BOX units, click the "Add to Cart" button for your desired CRYPTO-BOX model and then check the Laser engraving option. Or contact us for further questions.
VISIBLE IDENTIFICATION WITH DURABLE TAGS
MARX offers a variety of optional accessories for the CRYPTO-BOX to enhance logistics and comfort of every-day use. The metal key-chain tag for the CRYPTO-BOX is available in chrome. Customized laser engraving and heavy-metal-durability match perfectly with the designer case of the CRYPTO-BOX.
The clear polymer tag is tear-proof, weatherproof and very durable. The insert sheet can hold information such as a company logo, serial numbers or software labels.
Dust-caps are designed to protect the connector of the CRYPTO-BOX. Metal bead chains and lanyards are attractive accessories for the mobile use of the CRYPTO-BOX.
Solid pendant for the CRYPTO-BOX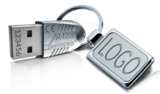 Clear plastic pendant with inlay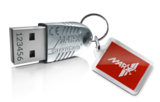 Dustcap
Black polymer dustcap for the CRYPTO-BOX connector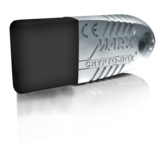 Ball Chain
Metal chain to attach the CRYPTO-BOX to key rings (80mm/3.1in)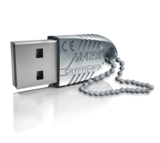 Lanyard "MARX"
Red/White lanyard with imprint (190 x 20 mm / 7.5 x 0.8 in)